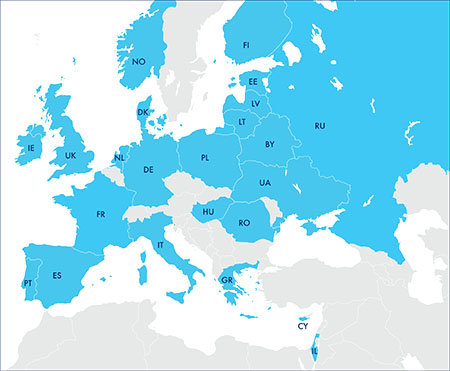 GROWING TOGETHER
In  1989, a group of Spanish and a group of French electrical wholesalers signed an agreement of international collaboration to commence at the beginning of the following year.
Further countries joined the group until in 1993 it comprised groups from France, Germany, Italy, Spain and UK. At their European Congress in Berlin that year these countries founded the organisation with the name FEGIME.
More members were recruited over the years and today FEGIME is present in 18 European countries consisting of 230 independent electrical wholesalers with branch network for 1,150 outlets.
OUR MISSION – THE FEGIME BRAND
The FEGIME brand is a statement of our members' common values and beliefs. It presents us as the big family we are:
With the same goals and business-focused attitude, always prizing the importance of human relationships.
The FEGIME Group unifies our strengths, our values and our ambitions.
Our claim unifies our mission: Generating Value.
OUR AMBITION
As a union of family-run businesses, the FEGIME Group wants to be recognized as, and have the reputation of being, the best operators within the industry.
WHAT WE DO:
WE GENERATE VALUE…
… FOR OUR MEMBERS
We take our family-owned, independent businesses beyond their area of local operation because they are supported by a pan-European organisation.
We provide an exchange of information and best practices throughout Europe.
We give access to suppliers at home and in other countries, ensure our members' higher esteem with these suppliers and secure up-to-date product information.
We increase our wholesalers' competitive factors (more knowledge, continuous updates, better service, more efficiency and better prices).
We minimise costs and exploit synergies through co-operation and centralised services.
We provide back-up from a strong, solid, competitive and reliable group without diminishing the agility, proximity and enviable service that always characterises each wholesaler.
We offer a good defence strategy against the big financial groups of our sector by guaranteeing our members' future presence on the market, in sync with their long-term commitment to the business.
… FOR OUR SUPPLIERS
Our committed wholesalers generate more turnover for Preferred Suppliers and implement the strategic decisions taken by FEGIME Europe.
We "open the door" in our member countries.
We offer a different approach on the market, based on proximity and trust, combining the force of the group with the agility and superior service of each wholesaler.
We provide a balance between independent, family-owned wholesalers and the multinational financial groups.
We ensure long-term and trustworthy business partnerships.
… FOR OUR CLIENTS
We guarantee that our clients will always get the right quality at the right price.
We ensure that our clients will always get good service from a wholesaler who is rooted locally but has a pan-European organisation to back him up and provide even more.
We offer a different approach on the market, based on proximity and trust, combining the force of the group with the flexibility, agility and enviable service of each wholesaler.
We guarantee access to the best brands in our sector with continuously updated knowledge.
We provide long-term and trustworthy relationships.
niallcurran
FEGIME Ireland have launched their very own smartphone app called ElectroTools designed for electricians, technicians and engineers.
The app is available on iOS from the AppStore and the Android version will be available from mid 2015.
Please […]
niallcurran
Welcome to the new Fegime Ireland website. We have updated the site inline with our current corporate branding.
We hope you like our new design and features.